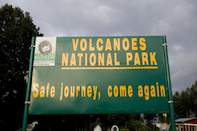 © Justin Fox
Information on the best Rwanda national parks and reserves, offering unforgettable gorilla tracking and cultural experiences.
Parc des Volcans in Rwanda
Domain of the Mountain Gorilla
Protecting Rwanda's portion of the Virunga Mountains, the Parc des Volcans (also referred to as Volcanoes National Park) was the site of Dian Fossey's celebrated gorilla habituation and anti- poaching project, and will be familiar to some as the location of the film Gorillas in the Mist. And what a memorable location it is, this chain of free-standing volcanic mountains, whose daunting slopes swathed in giant bamboo clumps and montane forest, rise imperiously to above 4000m.
Primate Tracking

The star attractions are the world's last 380 mountain gorillas, which are unique to the Virungas (DNA tests suggest the gorillas in Uganda's Bwindi NP are racially discrete). Four habituated troops, each dominated by a "gentle giant" silverback, frequently allow visitors close enough to stare into their deep brown eyes — the most emotive, haunting wildlife experience on the continent. The supporting cast includes elephant, which frequently leave steaming calling cards on the forest trails, but more likely to be seen are the localised Golden monkey and various forest birds and butterflies.
The Virungas straddle the border with Uganda and the DRC, a region marked by political instability in recent decades. The area is also prone to sporadic geological upheaval: one recent eruption expelled a wall of molten lava into the Congolese town of Goma. This shouldn't put you off: the Parc des Volcans has been safe for some years now and the volcanoes that regularly blow their top aren't ecologically compatible with gorillas.
Hiking Trails
Apart from the gorilla tracking adventures, cultural lore and natural beauty lurk in the tunnels of the Musanze Caves. Formerly used as a shelter during wartime centuries ago, expert guides lead the way pass serval cats and bat colonies, keen to inform guests about the rich history of this national treasure.
The journey passes through dark tiny spaces, and leads to luscious greenery that spills out into the twilight. The beauty of the caves should be seen to believe. Safety precautions are done beforehand, and bookings arranged prior to the hiking trail. These hiking trails can also be combined with a gorilla tracking experience.
Although small in size, Buhango EcoPark should not be overlooked when spending a few nights in Parc Des Volcans. This haven of tranquility is where towering trees are graced with the presence of colourful birds and delicate butterflies fluttering around. This divine sacred space was built on the sites that were used for coronation rituals of the Rwandan kings. Tours are offered between 10 am to 3pm, and each person entering should have a valid permit.
Planning Your Gorilla Tracking Safari
A number of classic hotels are found in the nearby town of Ruhengeri, or — with a vehicle and an early start — you can track gorillas as a day trip from the more upmarket hotels in Gisenyi or Kigali. However, it is advised to stay at one of the cottages closest to Parc des Volcans. A typical day - dependent on where you are staying - starts with an early morning road transfer of approximately 2 hours, a safety briefing at the gate, followed by your gorilla trekking adventure.
Gorilla itself can take up to 8 hours, and once spotted, an hour is spent observing their antics. Tracking is tougher during the rains (February-June, September-December). To secure your spot, it is highly recommended for permits to be booked 3 to 6 months in advance.
Iby'lwacu Cultural Village
Thunderous drumming and joyful dancing greets guests at the entrance of this living museum located just outside of the national park. Meaningful experiences at the Iby'lwacu Cultural Village feature hands-on rituals that highlight the local way of life in the ancient Rwandan kingdom. To fully experience Rwandan culture, extended trips into the countryside and an overnight can be arranged. The presenters and performers of this one-of-a-kind experience were poachers who found a new meaning of life through devoting their time with this memorable experience.

It's optimistic to arrive in Nyungwe expecting to encounter a high proportion of the 75 mammal species which inhabit the shady forest interior — Palm civet, Yellow-backed duiker, potto and Giant flying squirrel among them. But troops of up to 400 Ruwenzori colobus are easily located near the park headquarters, along with L'Hoest's, Red-tailed, Dent's and Silver monkeys, and — further afield, and with greater effort — chimps.
Nyungwe Nationa Park in Rwanda
Primate Nirvana
One moment, the road winds unremarkably through the steep terraced slopes that characterise Africa's most densely populated nation. Then, abruptly, the ubiquitous cultivation gives way to lush evergreen forest — branches draped in tangled lianas, canopy animated by liquid birdsong — and a succession of liberating views across tree-swathed mountains rolling south to the Burundi border. Such is most people's introduction to Nyungwe National Park, which — extending over almost 1000km2 — is the largest extant rainforest in eastern or central Africa and possibly the most scenic, with few peers in terms of biodiversity.
Birder's Paradise
Prominent among 310 bird species is the delightfully garish Great blue turaco, while 27 Albertine Rift endemics and the rare Congo bay owl will have serious birders salivating. Described as one of the most important site for biodiversity in Rwanda, actual bird spotting in the park can be quite challenging. On walking explorations bird songs are quite delightful, but by booking a guide you will learn to differentiate between each distinct sound.
Walking Trails
Experienced and novice hikers can challenge themselves to adrenaline pumping walking trails across steep and scenically diverse landscapes. Travellers up for the challenge will come across dazzling wildflowers, majestic river views, and exquisite birdlife. The park boasts with an extensive network of hiking trails for guests to choose from.
Canopy Walkway
Hanging about 60 meter above the forest floor, visitors to Nyungwe National Park can expect a fresher perspective to witness the rainforest. Mesmerising views of the park's stunning wildlife and nature can be admired on a Canopy Walkway Tour. The experience, also combined with specialised hiking trails, is offered year round at an additional cost. All guests are advised to bring a raincoat along for the experience, and no children under the age of 6 years are allowed on the tour.
Cultural Tour
No visit to Rwanda is complete without experiencing its rich and historic culture. Discover the integral parts of Nyungwe's culture by witnessing its song, dance, music and cuisine on walking tours of the Banda Village. On this memorable experience, guests will enjoy interactive activities such as food tasting and basket weaving. Local Rwandan culture is preserved through numerous community based tourism initiatives, where guests can live like the locals do. A walking tour through the villages will give insight on traditional medicine making, maize-grinding, and many more. Overnight ceremonies can also be arranged.
Planning Your Stay
Accessible by public transport and serviced by a pleasant and inexpensive government resthouse and campsite, Rwanda's newest NP is tailor-made for budget-conscious nature lovers. More comfortable accommodation is available at Cyangugu port, about 30km west of the park boundary.