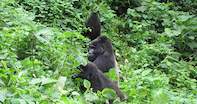 The Chimp and Gorilla Uganda Safari is a once in a lifetime chance to see these amazing creatures in their natural environment.
Travel through the heart of Uganda
Enjoy traditional African cuisine
Marvel at the areas rich in flora and fauna
Visit the fabled 'Mountains of the Moon'
Day 1: Kampala/Mambo, Uganda
One the first day of your Uganda Gorilla Safari you arrive at Entebbe International Airport, where
you will be met by a representative
who will transfer you to Kampala, Mambo Point or similar.
Day 2: The marvelous Murchison Falls
After breakfast on your Uganda Gorilla Safari, leave Kampala with a panoramic drive Northwest through the famous Luwero Triangle. Stop over at Masindi Hotel for lunch. Proceed to Murchison Falls National Park, the
largest protected area in Uganda
. Its name is derived from the falls on the Victoria Nile, which divides the park in two sectors.
Relax for a while at a site
situated on top of the spectacular falls
, where you can see the Nile's perfected beauty. Marvel as it compresses and squeezes itself from over one kilometre wide down through an 8 metre canyon.
The 43 metre drop of the falls creates a thunderous roar and a
beautiful rainbow in a plume of spray
- the best thing to ever happen to the Nile. Dinner and overnight at Paraa Safari Lodge with unique view on the Nile.
Gorilla Facts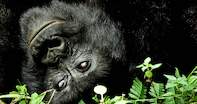 Individual gorillas can be identified by their unique "nose prints," or nose patterns, and as with human fingerprints, no two gorillas have an identical nose print.
Day 3: Boat cruise on the river Nile
On day 3 of your Uganda Gorilla Safari enjoy a cup of tea before embarking on an early morning game drive on the Northern bank where your guide will help you spot Elephant, Lion, Cape Buffalo, Rothschild's Giraffe, Hartebeest, Waterbuck, Oribi, Bushbuck Spotted Hyenas and Leopard. Return to the lodge for breakfast. After breakfast you can take a break and relax by the swimming pool.
After lunch, you will sail upstream by boat to the calm Victoria Nile and the base of the falls just a few metres from the 'Devil's Cauldron'. There you can marvel at toothsome Hippo, Crocodiles and over the 17-kilometre stretch you may also see Elephant, Waterbuck and Uganda Kobs.
This is also the habitat of many bird species including the Goliath Herons, Egyptian Geese, Pelican bee-eater, Kingfisher, Hornbill, Cormorant and the rare Shoebill Stork. After taking photographs of the Murchison Falls you will return for dinner and overnight at Paraa Safari Lodge.
Day 4: Fort Potal, Rwenzori Mountain Range
After breakfast on your Uganda Gorilla Safari, drive from Murchison Falls Southwest via the Albertine Escarpment of the Western Rift Valley. The tour drives through Hoima, the
town of the Bunyoro Kingdom
, passing though verdant countryside, tea plantations and traditional homesteads.
You reach the colourful and pretty town of Fort Portal, the capital of the Tooro Kingdom, in the shadow of the fabled 'Mountains of the Moon,' the Rwenzori. Enjoy dinner and overnight at Ndali Safari Lodge/Rujuna Hilltop Guest House with a
spectacular view of the mountains range
.
Day 5: Chimpanzee trekking in Kibale National Park
On day 5 of your Uganda Gorilla Safari you will leave after breakfast and drive to Kibale Forest National Park for primate viewing. The activity starts at 8 o'clock in the morning. There is a half day search for Chimpanzees and other primates including Phoestes, Red-colobuses, Blues, Red-tailed and Grey Cheeked Mangabey as well as birds, butterflies and other small insects. The guide will provide detailed explanations on not only primates, but also on all the forest's fauna and flora, ensuring that your walk is both informative and enjoyable.
Lunch can be arranged from Kanyanchu Tourist Centre. On the way do not miss the beauty of the Kasenda Crater Lakes, which dominates all the surrounding areas with the possibility of amazing panoramic views. A visit to Bigodi Swamp Eco Tourism Site is amazing, as the tour will encounter rare and beautiful flora and fauna. Dinner and overnight at Ndali Safari Lodge/Rujuna Hilltop Guest House.
Day 6: Boat cruise on Kazinga Channel
After an early breakfast on day 6 of your Uganda Gorilla Safari, proceed to Queen Elizabeth National Park, following the mystical Ruwenzori Mountain Range for most of the journey.
A game drive en route may be rewarded with view of Waterbuck, Elephant, Leopard, Buffalo, Spotted Hyena and a variety of Antelope species. Arrive early for lunch at Mweya Safari Lodge, with its wonderful location on top of the Mweya Peninsula.
Enjoy the unique two hour boat cruise on the Kazinga Channel and into Lake Edward. This trip passes through possibly the highest concentration of Hippo and many animals may be seen drinking at the water's edge.
This launch cruise offers an excellent platform for photography, bird watching and game viewing. The prolific bird life is colourful and stupendous with well over 550 resident species. Dinner and overnight at Mweya Safari Lodge.
Day 7: Queen Elizabeth National Park
On day 7 of your Uganda Gorilla Safari enjoy a cup of coffee before embarking on an early morning game drive along Kasenyi tracks and Queens mile in the Park. Expect to see Lion, Elephant, Cape Buffalo, Warthog, Spotted Hyenas, Mongoose, Waterbuck, Kob, Leopard, and many small animals and birds
After reaching Lake George you will drive back to the lodge for lunch. In the afternoon drive to the splendid Crater Lakes region for sightseeing. Dinner and overnight at Mweya Safari lodge.
Day 8: Ishasha sector, Maramagambo Forest
After breakfast on day 8 of your Uganda Gorilla Safari, proceed to the Ishasha sector of the Park via Maramagambo Forest. Have a midday game drive in search of the rare tree climbing Lions which you can see only in this area of Uganda.
Here lives a population of Lions which enjoy resting on the fig trees when the day is warm. The landscape is an open savannah with a variety of acacia trees. Lunch is served at the Savannah Hotel. Proceed to Bwindi Impenetrable National Park for dinner and overnight at Buhoma Homestead.
Day 9: Encounter with mountains gorillas
On day 9 of the Uganda Gorilla Safari you will proceed to the Gorilla sanctuary of Bwindi Forest. The rainforest is spectacular as it offers a dramatic, heavily forested and dense landscape criss crossed by numerous animal trails, allowing access for tourists.
This park is best known for the fascinating Mountains Gorillas, where the time taken and terrain varies according to the movements of these marvelous primates. The thrill of spending time with and observing the Gorillas is a rare, moving, awesome and exciting adventure.
The Gorillas are shy and peaceful animals and it is an unforgettable experience to watch and photograph them as they interact with each other. Dinner and overnight at Buhoma Homestead.
Day 10: Lake Bunyonyi, Uganda
Enjoy breakfast on day 10 of your Uganda Gorilla Safari before taking a scenic journey to Kabale. The tour travels through beautiful terrain and rolling hills with terraced landscapes to an area referred as the 'Switzerland of Africa.'
Stop over at the Bakiga Museum in Kabale to discover the culture of the people living in the area. Lunch at Arcadia Cottages, with a unique and amazing panoramic view of the Lake Bunyonyi, the deepest in Uganda. Enjoy afternoon boat rides on the lake to various islands for bird viewing and sight seeing. Return to Arcadia Cottages for dinner and overnight.
Day 11: Lake Mantana Tented Camp, Uganda
After breakfast on your Uganda Gorilla Safari, you will drive to Lake Mburo National Park, the smallest lake in Uganda. Lunch is served in Mbarara at Lake View Regency Hotel. Afternoon game drives in search of the beautiful Impala, Zebra, Cape Buffalo, Eland, Oribi and Topi. Along with the game drive, many visitors can also enjoy a boat trip on Lake Mburo.
The park offers very good bird-watching opportunities for birders, who will enjoy more than 250 species of birds found here, including Papyrus Gonolek, Brown-face lapwings, Carruther's cisticolas, the extraordinary White Winged Warbler and Bare-faced go-away bird.
Candlelit dinner is served at the Lake Mantana Tented Camp, all under canvases and in the heart of the African bush underneath the starlit African sky.
Day 12: Kampala/Entebbe, Uganda
On the final day of your Uganda Gorilla Safari enjoy breakfast before driving to Kampala/Entebbe. Stop at the Mpigi Royal Drum Makers where you will be able to watch the ceremonial drums being crafted using methods passed down through generations.
There will also be time to stop at the Equator for photographs. Reserved for departure for evening flights or spend another noght in Kampala/Entebbe.
Included
Accommodation in hotels or lodge/bandas
Accommodation in double room
Accommodation for full board treatment
Soft drinks for the meals
All the transfer in private means 4x4 Land Cruiser
English speaking Driver/Guide
Entrance fees, taxes and 'Gorilla permit'
Not Included
Air ticket
Tourist insurance
Entrance visas
Extra drinks and tips
Everything not directly mentioned in the itinerary
Entrance visas: Euro 30,00 directly from Entebbe Int. Airport.