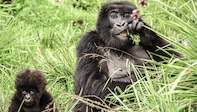 Your Gorilla safari starts in Kampala, travels through Uganda, and ends back in Kapama.
Departure Point: Kampala, Red Chilli Hideaway, Plot 82, Sunderland Ave, Mbuva
Accommodation: Camping
Group size: Max 30 passengers
Safari vehicle: Overland truck
What you can expect on the 3 day Gorillas Trekking:
You will head to Kisoro via Ruwenzori Mountains, cross into the Democratic Republic of Congo to track the Mountain Gorillas and then head off to Lake Bunyoni to relax, windsurf, fish and swim.
Days 1 - 2: Kampala to Kisoro, Uganda
You depart at 05:00am from Kampala on the first day of your Gorilla safari and travel west to Uganda, arriving at your base in Kisoro. From Kisoro, depending on where Gorilla permits are available and where the Gorilla is located, Gorilla viewing will possibly take place in either the Magahinga or Bwindi National Parks in Uganda, the Virunga National Park in the Democratic Republic of Congo, or at the Ruhengeri in Rwanda.

Please note that due to the nature and habits of Gorilla, viewing cannot be guaranteed. The cost of the trek differs from Park to Park, and there is also a cost for local transport to take you to and from the starting point of the trek.
There are only about 600 Mountain Gorilla still in existence today, and is one of man's closest relatives. Encountering these majestic animals is indeed a memorable and unique experience. Accompanied by your park guide and a bush cutter, you track Gorilla through the lush rain forests of Africa.

Even though these creatures are monitored daily by the guides and park officials, trekking can take quite a while, sometimes up to 5 hours, so guests need to be sufficiently prepared and have a genuine love for these creatures.

Gorillas are sensitive to human diseases; therefore park authorities will not allow anyone of ill health to visit the Gorilla groups. Children under the age of 15 are also not allowed to visit. Breakfast, lunch and dinner is included.
Day 3: Kisoro to Lake Bunyoni, Uganda
A short and scenic drive leads you to Lake Bunyoni on day 3 of your Uganda tour.
Lake Bunyoni is the deepest crater lake in Africa, and home to a large number of bird and fish species. Breakfast, lunch and dinner is included.
Day 4: Lake Bunyoni, Uganda
You spend the whole day at leisure, enjoying the beauty and diversity of Lake Bunyoni.
You have the option to swim, visit the local villages, or just relax and enjoy your magnificent surroundings. Breakfast, lunch and dinner is included.
Day 5: Lake Bunyoni to Kampala, Uganda
On day 5 of your Uganda tour you will drive to Kampala for another overnight stay, and perhaps to enjoy some of the city's nightlife.
Your trip ends once you arrive at your accommodation for the night. Breakfast, lunch and dinner is included.