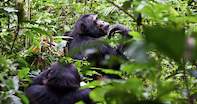 This 8 Day Taste of Uganda safari includes activities such as chimpanzee trekking and will accommodate you in luxury lodges and adventure camps.
The best of Uganda's famous national parks and including exciting chimpanzee trekking. Experience the unmatched beauty of the Mountains of the Moon as you game view among the historic lakes of Albert and George. An excellent mix of luxury lodges and adventure camping (where no lodges exist) to optimize the game viewing experience.
Day 1: Kampala, Uganda
You'll be personally met when you arrive Entebbe airport, and transferred to the newly renovated Nile Serena Hotel in Kampala.
For those arriving earlier, an afternoon excursion can be planned to the famous tombs of the Kabaka kings.
Day 2: Kibale National Park, Uganda
Leave Kampala after breakfast for the fascinating drive through papyrus swamps and thick jungle of the Nile Delta to Kibale National Park just under the Ruwenzori Mountains.
Afternoon guided walk in the lakes area of the park for outstanding birds and primates. Meals and overnight at Mantana's Camp.
Chimpanzee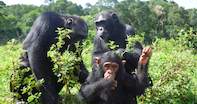 Chimpanzees are omnivores, and consume a wide variety of foods including fruits, nuts, seeds, and insects. They will occasionally hunt for meat.
Day 3: Kibale - Semuliki National Park, Uganda
Early morning trek for chimpanzees. Kibale is the best reserve in Africa to view chimps, a thick jungle with a towering canopy. In the afternoon, drive to the Congo border right under the Ruwenzori Mountains, into the Semuliki National Park jungles.
Dinner and overnight at Semuliki Safari Lodge.
Days 4: Semuliki National Park, Uganda
Two full days in the closest habitat available in East Africa to true central African jungle. The new Semuliki National Park is lowland, dense forest, with exotic primates, hundreds of bird species and good mammals as well. Its location on the shore of Lake Albert provide excellent shoreline game viewing.
Meals and accommodations at the luxurious Semuliki Safari Lodge. Few tourists get into this incredibly beautiful area!
Day 5: Semuliki - Queen Elizabeth National Park, Uganda
This morning drive south into Queen Elizabeth National Park, sightseeing and game viewing enroute.
Dinner and overnight at spectacular Mweya Lodge perched right on the edge of the escarpment overlooking the Ugandan Great Lakes.
Day 6: Queen Elizabeth National Park, Uganda
Dawn game drive in Uganda's best park, where all the big game can be seen in abundance. Famous for Elephant and Kob, expect to see some rarer animals like giant forest hog. There are 638 recorded bird species in the park!
After lunch, enjoy a boat cruise on the Kazinga Channel, which connects Lakes Albert and George, for large numbers of buffalo and hippo. Meals and overnight at Mweya Lodge.
Day 7: Lake Bunyonyi, Uganda
Today's drive is through what is probably East Africa's most spectacular scenery, the highland rain forests that reach to the volcanoes in which live the mountain gorillas. This is the lushest highland rain forest on earth, filled with primates and exotic birds.
The afternoon is spent on a foot safari around the magnificent crater lake, Bunyonyi. Meals and overnight in our Bushara Island Camp.
Day 8: Entebbe - Depart, Uganda
Return to Kampala, then Entebbe, today, with private rooms at the Lake Victoria Hotel before your evening departures home.